Area Attractions: Las Cruces, NM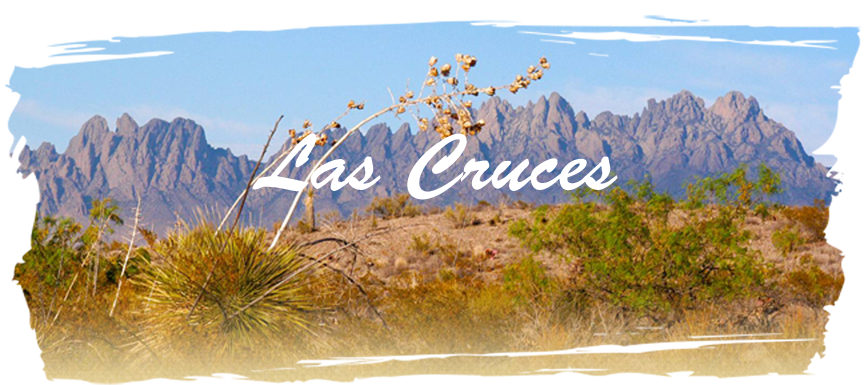 Las Cruces is home to attractions that celebrate the city's rich history and cultural diversity. Make sure not to miss the New Mexico Farm & Ranch Heritage Museum – charting the history of agriculture in the state – and of course the Historic town of Mesilla and its quaint plaza filled with shops, boutiques and restaurants. Click on links for detailed information for each topic. 
Entertainment
With over 40 galleries and over 200 artists, the Mesilla Valley is the perfect place for art lovers seeking high quality productions at a reasonable prices. 

Bataan Death March Memorial
Heroes of Bataan. The only federally funded memorial dedicated to the memory of the victims of the Bataan Death March during WWII. Located in Veterans Park. Bataan Monument Memorial MerchandiseFort Selden State Monument – Located 15 miles north of Las Cruces on either Interstate 25 (exit 19) or Highway 185. Fort hours: 8:30 a.m. – 5 p.m. six days a week, May 1- September 1, 9:30 a.m. – 5:30 p.m., closed Tuesdays.  (575) 526-8911. 

Ghost Towns 
There are several historic towns within an hour or so drive of Las Cruces. 
Historic Old Mesilla 

One of the most popular trade centers between the mid west and the west coast 150 years ago, Mesilla is now a quaint town centered around a plaza filled with shops, boutiques and restaurants. Located south of Las Cruces on Avenida de Mesilla, and only minutes from anywhere in Las Cruces. 
Las Cruces Farmers & Crafts Market
Locally grown produce, hand-crafted arts and crafts, jewelry and much more. Every Wednesday and Saturday morning from 8 a.m. – noon on the Downtown Mall. 
Mesilla Valley Bosque State Park 

New Mexico's Newest state park focuses on conservation, education and restoration of the plant and wildlife in the area. 
Check out any of Las Cruces' several museums dedicated to preserving the history of the Mesilla Valley, surrounding areas and the state. Collections range from ancient historical artifacts to generations-old family heirlooms. 
New Mexico Farm & Ranch Heritage Museum 
A tour of the 3,000 year-old agricultural history of New Mexico with hands on displays and live demonstrations. Located 1.5 miles east of Telshor on University Avenue. Museum hours: Monday – Saturday 9 a.m. – 5 p.m., Sundays noon – 5 p.m.  (575) 522-4100. www.frhm.org Organ Mountains – Overlooking Las Cruces to the east, the Organs provide excellent hiking, mountain biking and camping opportunities. 
One of the world's largest producers of pecans offering weekly tours of their candy and pecan processing plants. The farm is located seven miles south of Las Cruces on Highway 28.  (575) 526-8974. www.stahmanns.com 
Home to the newly erected Dona Ana County Veteran's Wall and the Bataan Death March Monument. 

White Sands National Monument 
Over 275 square-miles of naturally produced gypsum, creating one of the most unique sites in the world. Located 45 miles east of Las Cruces on Highway 70.  (575) 479-6124. www.nps.gov/whsa
Wineries – New Mexico started producing wines in 1629, making the state's wine industry the oldest in the country. Today, several New Mexico wineries produce a wide variety of fine wines, and each year Las Cruces hosts the Southern New Mexico Wine Festival, La Vina Jazz and Blues Thing and the New Mexico Wine Harvest.